&nbsp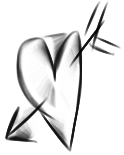 Hello and Welcome to the April Edition of the Blender of Love!

For almost two decades now the Blender has been the web's original open forum for romantic poetry, and our small band of stalwart readers and writers engage in a process of reminding our selves what it means to love, and the kind of pain we can feel when we don't... or sometimes, when we do. A selection of some of the most striking of last month's works are presented here.

You are welcome to join in with your own voice-
As always, love, read, and enjoy!


"Your naked body should belong only to those who fall in love with your naked soul."
--Charlie Chaplin in a letter to his daughter Geraldine
front page picks