So many years ago I took the audacious role of Editor of the Blender (as opposed to merely being a caretaker) selecting a smallish number of each month's submissions as a kind of "value-add" feature to the front page... figuring that many people might not want to read through every work, but might appreciate a smaller selection of interesting pieces.

Still, I didn't want to discard the other works, so I made "Heart on Sleeve Corner". In order to organize that page, I asked each author to select a 'feeling of this work' Category from a list, and then built a program to collate the works based on that.

This month I thought it might be amusing to see which categories were popular, and which ones were less so, as well as discuss the initial selection, which has been the same for almost a decade now... for regular contributors to the 'Blender, this list will be very familar, but for others it might be something new...

So in descending order of popularity:

Something Else - 13411
The default choice (the category if the author doesn't pick anything) is far and away the "favorite", making up about 2/3 of all the selections. I purposefully made the default the most ambiguous choice, so as to not falsely imply a specific mood.

Love On The Net - 113
Oh what a brave new world we had in the late 90s, just discovering what impact the Internet could have on romance. This was before online singles sites had really taken off, but even then we started to see how the new forms of communication, putting informal style of communication in a more long-lived medium, could impact people's relationships. Still, not too many works of this type over the years.

Love Found - 948
A popular choice!

Love Lost - 1349
The balance of Love Found, and, unsurprisingly, the inspiration of more works. I always guessed it was a topic more likely to get someone to write.

Other Factors Interfere - 437
Somewhat popular. Actually, this one probably has a lot overlap with "It's Never Simple", which is more popular.

Admiring From Afar - 244
Boy, I've been here. The place for a multitude of crushes.

Just Plain Admiring - 408
It's nice to see that this is more popular than its "afar" origin.

Still Life - 253
I had noticed a small genre of works, just setting a time and place.

'I Will Survive!' - 396
...With apologies to Gloria Gaynor, it's a powerful statement.

Love Taking Away Freedom - 103
This one is...I don't know, a bit of an artsy throwback in someways, kind of like the classic "Lover's Complaint"

Live for Today - 283
Echoes of Carpe Diem, which bubbled through the memepool after Dead Poets' Society.

It's Never Simple - 892
One of the most popular categories, and with good reason. I guess it's the one that most simply catches the lack of simplicity...

Life as Second Fiddle - 51
The single least popular choice. It's been an important theme in my life, though.

Between Friendship and Romance - 280
Hmm. This one seemed like a more significant thing when I was in high school and college. In the "real world", it doesn't seem to come up as much.

Confused - 337
I wonder if most of the works in this category are about externally or internally derived confusion...

A Metaphor - 354
"It's a metaphor, if you know what I mean...how have you been?" --Ani DiFranco.

Really, Really happy - 285
Sadly, not that popular of a choice.

Lonely - 318
But then again, neither is this one.

Lonely But Happy. - 101
But this is one of the least popular of all...

So, being a huge geek, I decide to plot some of the results, to see if I noticed any particular trends... nothing really emerged, except for how a few years ago I was getting 400-500 works a month, whereas for the last few years it has settled down to a much more reasonable 100 or so... but still, here's the chart, with the overwhelming "Something Else" category removed, with each remaining category shown as a percentage of each month's entries...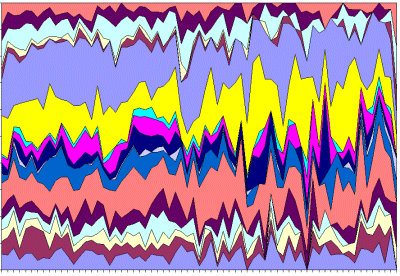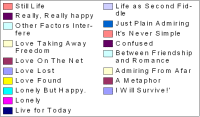 Kind of pretty, like a demented rug design.

And that's that! If you've had half as much fun reading this as I had making it, than I've had twice as much fun as you.