Fair disclosure: I do know the author of this book, but I have to say I am deeply impressed with the quality of her work!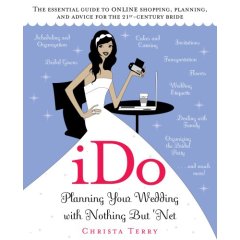 iDo is the book I wish I had had for my own wedding... Christa Terry does a great job covering all the bases of planning a real live wedding using the huge and sometimes bewildering array of options available online these days. The book is rooted in real world experience, both the author's as well as the some other couples who agreed to act as case studies.

Like most things wedding-related, the packaging and marketing is aimed at women, but there's a lot of stuff for grooms in there as well. The whole thing is written in a funny and down-to-earth style and is a good read on its own.

I'd also put in a good word for Manolo for the Brides, a blog that has Christa Terry as one of its main contributors. Originally I just added it to my LiveJournal 'cause hey, she's a friend, but it really has a regular supply of interesting thoughts, suggestions, and sometimes weirdness of the wedding world.

You can check out the book at Amazon as well as some of her work at Manolo for the Brides... great stuff!