&nbsp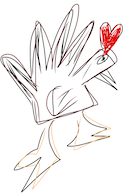 Hello and welcome to the Loveblender Digest for November!

Fall is upon us, and days of cold and gray. But together a few of us hearty souls huddle for warmth, and sharing the spirit of writing romantic poems for ourselves, for our loved ones, and for each other.

And that's what the 'Blender has always been about -- we are the web's oldest romance poetry community, and as long as people have a romantic voice they will have a place for it here.

So as always, read, write, share, love, enjoy!


ôLove is in all things a most wonderful teacher."
--Charles Dickens, "From Our Mutual Friend"
front page picks