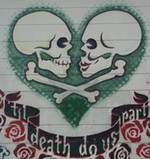 Welcome to the August Blender of Love!

It's been a hot summer here... hope you all are coping ok and managing to keep this whole political thing in perspective, no matter what your political persuasion.

The Blender of Love is the web's oldest romance poetry community. Every month our small band of readers, writers, and lovers (preferably all in the same person!) send in their heart songs, and the next month a selection is reprinted for your review. And you are welcome to participate!

As always, love, read, write, share, and enjoy...