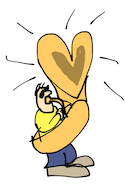 October - the month of Halloween! Also, the annual HONK! festival of activist bands right here in the Boston 'burbs. Had a great time with my tuba in my J.P. Honkband, almost drowned in the rain on parade day though.

A light but good month last month, new works wise.

The Blender of Love is the web's original romance poetry community site, and we encourage people to send in their own heart songs. Then every month, a selection of the most intriguing ones are republished here on the front page. We invite you to join in!

Love, share, and enjoy!