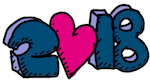 Welcome to the first Blender of Love digest of the new year!

Our small band of romantic voices writes, and we look back here.

You're welcome to join your voice to ours by sending in your romance-themed work, and be a part in continuing the longest-running love poetry community on the Internet!

As always, read love share and enjoy!