&nbsp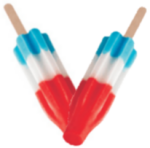 Welcome to the dog days of summer (Are you Sirius?) at the Blender of Love!

July was another hot (get it) month for poetry, with many July 4th-themed submissions, as well as other works that captured the steam of the season.

Hope your summer is going well -- I'm off to the family vacation homestead on the Jersey Shore with my gal Amber -- and that you read the great stuff here and maybe get inspired to send in some sentiment of your own!

As always, read and enjoy!