&nbsp
Your loyal Blender-Keeper has returned safely from his trip to Paris, Germany, and London with his sweetie, fulfilled his dream of being in love whilst on the Eiffel Tower, and is now back in the Blenderly Swing of Things!

Summer is often a bit of a lull for the Loveblender but we still have an array of excellent small works for our fellow readers' enjoyment, loving arrayed here in the finest HTML Boston has to offer.

Hope everyone's summer is progressing excellently, and if you write, don't forget to read, and if you read, don't forget to write!

As always,
Read and Enjoy,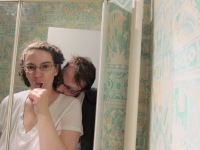 Kirk and Amber, sittin' in Paree--
b-r-u-s-h-ing their teeth!