&nbsp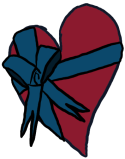 Here we are smack in the middle of the holiday season and another fine month of the Blender of Love is here!

November was a solid month for new works to the Love Blender and a selection is presented here for your review and approval.

The Love Blender remains the web's first ongoing romance poetry community, so as always, read, write, share, and enjoy!
PS As a side note, I would suggest checking out my Interactive Advent Calendar, a little toy or game for every day leading up to the 25th...

"I can't say any more than I love you. Anything else would be a waste of breath."
--Elvis Costello
front page picks