&nbsp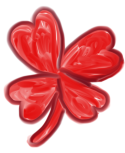 March! Month of St. Patrick's Day -- not to mention a big finale with the birthday of a certain Blender-Keeper...

Anyway, February was a fine if sparse month for poetry on the Blender of Love, and a selection of last month's most interesting works is presented here for your review.

The Blender of Love is a great way to get people reading your romantic poetry and to read the heart songs of others... so as always, read, write, share, and enjoy!

"a safe place for romance, beauty, heartbreak,and hope."
--Just L on the Blender of Love...
front page picks