&nbsp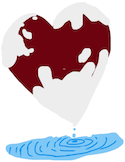 Will this winter ever end?

But February was pretty warm for the Love Blender, and a number of nifty new works graced our site - a sampling of the finest is here on the front page.

The Blender carries on as the web's original romantic poetry community! We welcome people to read, write, and enjoy...

Get warm!


"There are two ways to reach me: by way of kisses or by way of the imagination. But there is a hierarchy: the kisses alone don't work."
--Anaïs Nin
front page picks