&nbsp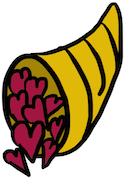 Happy Thanksgiving! A great time to think about what you have to be grateful for. Also: think about what you're actively harvesting in life. October was another fine month for our small but stalwart band of poets and we invite you to add your romantic poetic voice to our little crowd! Every month these are the people who send in their heart-songs to our site, and every month we go through and pick out a selection of the most stirring ones.

So as always: read, love, share, and enjoy!


You don't find love, it finds you. It's got a little bit to do with destiny, fate, and what's written in the stars.
--Anais Nin
front page picks