&nbsp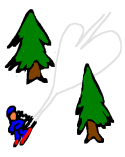 Welcome to the first Blender Digest of the New Year!

Seems to be a big snow year for many parts of the USA -- hope everyone out there is coping ok!

Another fine month of new works for this new year, so as always, read and enjoy!

In my opinion, the best thing you can do is find a person who loves you for exactly what you are. Good mood, bad mood, ugly, pretty, handsome, what have you, the right person will still think the sun shines out your ass.

--Juno

front page picks

what did you do to herman? - Eric J. / Kirk, Blender-Keeper
A piece of "found art" from the IT screwup site Worse Than Failure.

ginger bread treat - it dosent matter
"ginger lady with ginger man" makes me giggle.

in pieces - Ali
"I remembered you, in pieces" is a great line.

Love Quotes - B.K.
This month's Top of the Page quote.

To Divide By Zero - distant moon
Always a sucker for the math reference.

will be, must be - Kirk
I wish I remembered my dreams more often.

"A Slow Comfortable Screw" - ~Harem~
Ah, the myriad joys and dangers of drinks with funny names.

GETTING ENGAGED ON CHRISTMAS - ~Harem~
Kind of a nice view to wrap up the holidays.

Kissing the Wrong Man - Laurel Ahlfeld
Nice bar tale.

no snow - Briana Kassia
Rain, rain, go away, or don't.

In Some Lights I See - chris
Always dig the desert motif found in so many of chris' work.

Drunk Dial - Jane Rain
The 2am call.

Let's Play it by Ear, Part 1 - Ariadne
Woo, Match.com success story. Nice to hear there's might well be hope...

unsent message - sapphyres_serenade
"Not that it matters any, but I want to lick you"

Quote from Sookie Stackhouse book - Charlaine Harris / sapphyres_serenade
Seems like good advice.

In the Rearview Mirror - Bighead
Bighead as a gift for the small and focused.

it's gonna rain - perfect_chaos
I just like the description "ballsy sheer hippie blouse"

Regret - marfell64
An explanation.