&nbsp
The Holiday Season is swinging and so is your ever-lovin' Blender of Love...

A great selection this month, as a few clicks in the section below will attest. In particular I liked brooklyngirl's Flash movie...as far as I know, the first work in that medium for the Blender.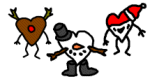 A terrific feature this month: the results of Gala's Winter Holiday Poetry Contest! A neat challenge as people wrote seasonal poems using buzzwords Galadrial provided.

Plus an old-school style Blender Ramble on wedding rings and finding my place in the world...

Happy Holidays! Hope you can share them with someone you love...















so close, so far - brooklyngirl
This is a terrific little Flash movie by brooklyngirl, a bit of wistfulness taken from city life.

The Coach (revised) - Varda
Good advice, presented with a great swagger.

Marcella's Defense (from Don Quixote) - Cervantes
In Don Quixote, the lovely Marcella was accused of causing a shepard's death-by-heartbreak, and this was her counterargument to her accusers. (I once used this in a Valentine to Rosetta, trying to see her point of view.)

Young Astronauts In Love - Kirk
Goofy cartoon, from a theme I've been doodling on lately.

Catechism of Kisses
Catchy Kisses
Two selections by Misti from a little book she gave to chris. I really liked the (fictional, alas) George W. Bush quote in the first one...if he actually had said something like that I'd have a touch more respect for him.

Reish, Part II
Friends
Two by Daniela, a new voice on the Blender. Her stuff seems to be more full realized than most new talents here.

tea with me - galadrial
The beauty of little ceremonies.

Hang Tough Darlin - B.K.
Elegant and succinct piece.

A Quiet Goodbye - A. Perkins
I think it's the difficult goal stated in the last few lines of this work that caught my attention.

Time Heals - Bridget O
A good question.

There she is in your office again - **The Color Of Love**
Summoning powers to save him from her...a great fantasia.

WISE - Rennie Lorca.
A touch of wisdom...almost a touch too sweet, but not really.

An Isolated Incident of Kissing - William O. Pate II
Submitted by Madison, who says "A friend wrote this and asked what I thought. I think it's wonderful. A beautifully erotic slice of life: mentally, picturesquely, and emotionally." A great read, makes me nostalgic for college life.


Blender Ramble
"The Ring's The Thing", wedding rings and finding our way in the world.


Heart on Sleeve Corner
560 more heartsongs sent to the Blender last month.

The Blender Board
Read and Post Comments.

New Submissions
The very latest works, unfiltered!


Blend-O-Matic
Random Romatic Ripcords